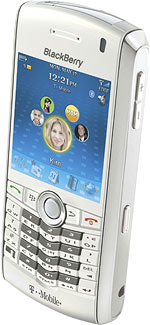 The BlackBerry Pearl 8100 is much more than just a phone, it's a take the internet wherever you go device. This smartphone features a 1.3-megapixel camera, music and video playback, expandable memory, push e-mail capabilities, EDGE support, and Bluetooth.
Getting started with the Pearl can be a little tricky, so this article covers some of the most important topics to improve your Pearl experience.
EDGE Support
In order to take advantage of browsing the internet and sending emails, you may need to add the BlackBerry services to your cellular plan. For example with T-Mobile, you will need to pay an extra $19.99 for the BlackBerry services and you should cancel any existing basic internet (non BB) and T-Zones services. Until you do this, your phone will display the error message "Data Connection Refused".
Internet Browsing
The browsing experience in the Pearl can be greatly enhanced by installing the Opera Mini browser. http://www.operamini.com/ This browser is faster and looks better than the default browser already on the Pearl. You can easily visit most standard websites and large images are reduced to fit the screen. The browser remembers basic authentication logins but it does not appear to remember form logins. Opera mini supports CSS and Javascript, however it will not run Java applets.
If you are using T-Mobile you will have trouble installing the Opera Mini browser. Follow these steps to add the APN value:
Options> Advanced Options> TCP
In APN field type: wap.voicestream.com
Leave username & password blank, then save
Here is a list of APN gateways for most cell carriers.
Email support
Setting up an email account on the Pearl is a very simple process. You can add POP and IMAP accounts to the phone, however the IMAP support is limited. The Pearl does not recognize IMAP folders and it will only read the main inbox. If you use email filters on desktop applications such as Outlook or Thunderbird you may need to disable filters that move important e-mails into sub folders. Or you can set up a new email address just for the BlackBerry and have your filters forward important emails to your phone. Spam and junk mail will be an issue as well. You can greatly reduce spam by always running Outlook or Thunderbird and configure junk mail filters to move junk into a sub folder.
Maps
The Pearl includes a map program however the phone itself does not have a GPS device. The map experience in the Pearl can be greatly enhanced by installing the Google Maps application. http://www.google.com/gmm/index.html If you have a rush hour commute to work, you will love the 'Show Traffic' feature in Google Maps. While not always accurate, it is within a reasonable time of reported traffic delays. If you need to find a business, you can simply enter the business name and Google Maps finds it for you.
Audio and Video
The video quality of the Pearl is excellent, however the speaker on the phone is not wonderful for audio playback. The audio does have a tinny like sound but the phone does include a headphone jack (mini size not the standard earbud jack). The phone's memory can get filled rather quickly so the optional miniSD card comes in handy for audio / video usage.
SureType Keyboard
This is not the phone to compose epic length emails with. The SureType technology will assist you as you type by presenting you with a list of possible letter combinations. Because the keyboard has two letters per one key, you will find yourself relying heavily on the SureType while you compose your text. If you put up with this feature, after some time, you will notice that typing becomes faster because of the short cuts while selecting possible letter combinations from SureType. Thumb typing is not impossible, however if you plan to use the Pearl to write a book, you may want to invest in a Bluetooth keyboard.
Key Lock and Emergency Calls
The Pearl, like most phones includes a key lock feature so that you can put the phone in your pocket or purse without pressing buttons. However the Pearl includes an "Emergency Call" feature which can get activated while in your pocket or purse. This feature can be launched by the track ball which remains unlocked while in key lock mode. To avoid calling 911 from your pocket, don't use the key lock feature. Instead use the standby mode by holding the mute button on top of the phone. This mode will put your phone to sleep and lock all keys and the track ball. It will save your battery life and you will still receive phone calls and message notifications. To bring your phone out of standby mode, simply press the mute button.
Additional Tricks and Tips
To turn off the power on the BlackBerry Pearl, hold the red end call key. To turn the phone back on, hold the green answer key.
Don't use key-lock, instead use standby mode by holding the mute button at the top.